Opium and Absinthe / Lydia Kang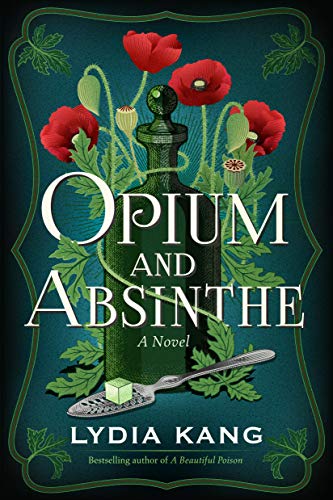 약간 이런... 장르소설이라고 해야 하나? 아무튼 평소 읽는 소설들과는 결을 달리 하는 책들 중 가장 재밌게 읽었다.
내용은 다시 곱씹어 보면 크게 별건 없는데 계속해서 범인이 누구일지 궁금해하게 만들게끔 쫀쫀하게 짜여 있고 (솔직히 범인 밝혀졌을 때 전혀 예상치 못했던 인물이라서 충격받았음) 페미니즘 요소도 조금 들어 있어서 주인공을 비롯해 멋지고 독립적인 여성 캐릭터가 다수 등장한다.
아쉬운 점이라면 작중 내내 주인공이 겪던 온갖 신체적 고난이 끝에 가서 보면 사건을 위해선 그다지 필요하지 않을 정도로 과했다는 점이 있겠다. 주인공이 이야기의 시작부터 끝까지 골절상 두 번, 약물 중독 두 번, 천연두 감염이라는 굉장한 스펙을 쌓는데 보는 내가 다 이 친구 나중에 제 명에 살다 가긴 했을까 싶어서 너무 걱정되었음.. 우리 틸리는 앞으로 계속 글써야 하고 어쩌면 대학에 들어갈지도 모르는데! 이런 설정 탓에 오히려 이야기의 절정에 달했을 때는 주체적인 여성 주인공의 성장기를 보여주려던 작가의 초반 의도가 무색할 정도로 모든 문제가 순전히 우연성에 의존해서 해결되었다는 느낌을 떨칠 수가 없다 (그리고 남주가 주변 악역들에 비해 너무 똘똘하고 괜찮은 애로 나와서 가끔 정신 차리고 보면 여주 내팽개치고 착즙하게 됨 ㅋㅋㅋㅋㅋㅋ...... 주체적인 여자 주인공인데 막판에 남주 도움이 없이는 여주 혼자 상황을 해결할 수 없게끔 설정한 것도 많이 아쉬웠다).
---
Only a few feet away, a barn cat tended a litter of new kittens. Upon seeing Tillie's lingering gaze, she immediately picked up one kitten in her jaws and carried it elsewhere for some quiet nursing. How was it that the cat didn't harm her babies with those teeth? How was it that the milk came only when the kittens needed it, instead of constantly pouring forth from her belly like a full watering can?
Grandmama Josephine would question a fly if a crumb were missing from the table.
No woman lives a life unscathed. It's what makes us strong. We are broken and mended, remade every time. We must, or it destroys us."
but Lucy would not be at her side, and Tillie would crumble inwardly, the way a sugarloaf did under a torrent of cream.
"Forgetting is an act of survival. We are women, Mathilda. We endure to survive.
"I used to go to that shul," Ian pointed out. "Oh," Tillie said. "Why don't you go anymore?" "I'm busy. And I had some problems with . . . never mind." "With whom?" "Not a person. Everything." He gestured to include the darkened sky above them.
How blessed are some people, whose lives have no fears, no dreads; to whom sleep is a blessing that comes nightly, and brings nothing but sweet dreams. —Lucy Westenra
"One thing all of us so-called civilized creatures have in common with the most basic leech: opportunity. If you chance upon it, don't let it go."
She smiled. "It's my pleasure. There are women doctors today, you know. If I could have had an education—a real education, beyond the schoolhouse, as a child . . . but"—she sighed—"I chose love, and I chose family." She clasped her hands together. Her passion seemed to blaze bright for a moment, sparking and snapping in her eyes. "We are on the cusp of a new century. Who knows what women will do in the next years? Promise me you'll think of me, when you decide what you shall do with the time you have before you."
All the while, she would secretly practice typing on her lap so she could get more efficient. Her mother would notice her arms moving slightly with her hands beneath the table, in between her salad and soup course.




"What are you doing, Mathilda?"




"I have an itch,"




Tillie would explain and go back to her exercises. C-A-T-C-A-T-C-A-T D-O-G-D-O-G And of course: V-A-M-P-I-R-E-V-A-M-P-I-R-E-V-A-M-P-I-R-E B-L-O-O-D-B-L-O-O-D-B-L-O-O-D But some other combinations kept creeping into her exercises. I-A-N-I-A-N-I-A-N T-O-M-T-O-M-T-O-M
"Ian. I've never written anything in my life, aside from letters and a few things my teachers asked of me, and that was when I was thirteen. What if it's terrible?"




"Don't give up before you try. Defeat is particularly lethal early on in any journey; don't let it be your compass."




He settled in nearby and folded his hands behind his head for a pillow.




"My mother and father, if they knew how tough it would be here, they never would have left the shtetl. But they did. They did the impossible."




"And what about you? What are you using as your compass?"




He looked at her seriously, then tapped his chest.




"Here. I hear my mother's words all the time. Di liebe is zees, nor zi iz gut mit broyt. And my father's. He'd tell me not to take anything too seriously. And my brother—and his giggles. They're with me, though they're not. And I know what they want me to do. I just have to do what's right in my heart too. There's room enough for all the right choices."
But soon after she mailed the article, her happiness over it vanished. All sorts of worry had replaced the good feeling. What if the writing was terrible? What if Ian or his editor laughed aloud at the contents? What if all her efforts were for nothing, and it wouldn't be published?
He leaned back. "You are remarkably gregarious today. You're usually so quiet and timid. It's not like you." He was correct; Tillie wasn't the same person she'd been when she'd broken her bone, quaking with fear at every situation that thrust her into societal scrutiny. She also knew this: she wanted to write more.
He shook his head. "There are other ways to deal with grief. Opiates are for broken bones, not broken hearts." Tillie stood up. She could feel her face burning, and she was so angry everything seemed blurred. "You don't understand anything." Ian rolled his eyes to the heavens, muttering, "Meshuggener. I understand too much. You need to think with a clear head for once." "You should probably leave." "I will." He took something out of his shirt pocket and slapped it on the table. A copy of the World. Ian strode to the door and looked back, his face downcast with anger. "It's your article. It's good. Really good. But it would have been brilliant if you'd been sober when you wrote it."
"I think I have something better. It's a scientific miracle. They say it's not addictive at all, and you only need a fraction of the dose, compared to morphine." He produced a tin from his pocket. Inside were tiny white tablets. "What is it?" Tillie lifted a pill between her thumb and forefinger. Such an itty-bitty thing. It looked like a saccharin tablet. "It's called heroin. My doctor says it's perfectly safe. Take them." He handed Tillie the tin. She read the top.




BAYER PHARMACEUTICAL PRODUCTS HEROIN—HYDROCHLORIDE 1/12 GRAIN
"I threw them away," James said. His face was neither malevolent nor happy. Just . . . the usual James. A blank expression fixed between a Caravaggio and a Rembrandt. The epitome of a gentleman. Whereas Ian blazed his emotions like firecrackers, lit from the slightest provocation. She remembered his words. "Don't give up before you try."
Her mama hesitated but seemed resigned to speaking. "They took care of the sick. Your grandfather was a doctor in Philadelphia. And your grandmother was a druggist. Can you believe that?" She shook her head. "A woman pharmacist! She had dark hair and eyes, like your father. Both poor as paupers." Tillie grabbed her mother's hand. "There is honor in having a profession, in not being idle. They had no money; there is no dishonor in being poor. I am glad you told me about them."
"I have told you the facts of my circumstances. As in the newspaper business, it is up to the reader to decide for themselves what to think. I think for nobody but myself, Miss Pembroke, and I suggest you do the same." She turned, and her skirts swept the carpeted floor as she left. "Wait! What was the third thing?" Tillie asked. She paused at the door. "Oh. For the love of Pete, stop writing to me. Four letters to all my residences and my editor? It's a waste of paper, and I shan't write back. I'm too busy. Good day to you, Miss Pembroke."
It was common knowledge that Tillie was once considered "a fine girl," which was a euphemism for "not quite pretty but not absolutely ugly either." Now, they feared she was intolerable.
Tillie's neck was still bleeding at a steady clip, and Ian pressed a cloth against the wound. She closed her eyes from equal parts dizziness and relief. She wasn't sure her heart had the strength for one more beat. But even if it stopped, she would know, with a tiny smile, that she was not broken.
There was satisfaction in this fact, relief. But there was no serenity to accompany the relief. It did not quell the tempest that was Tillie's loss. She thought of Nellie Bly's recent visit and how, despite the woman's matter-of-fact way of speaking and acting, Tillie had spied a shadow in her expression, like a bruise on her soul. She'd recognized it in herself—the mark of someone who has lost a loved one so dear.
Nellie Bly was right about one thing—one must take care of oneself. I can secure my own future and the future of those I care dearly for.
As for your offer to build me a grand library that would house all the stories I should ever wish to read, thank you, but I must decline. I prefer to write my own.
+) 작가의 말:
I did a little research into the newsies' strike and found out that all those events occurred in 1899, just before the new century. And then I found out that Bram Stoker's Dracula—the original book—was released in the United States in 1899. I thought, Huh. What if someone was killing someone, and the murders looked like vampire deaths? And a newsie helped solve the murders? These were the questions that started the entire process. Opium and Absinthe was born.
We all have the capacity for much love in the face of cruelty. Remember Van Helsing's words: "There are darknesses in life and there are lights; you are one of the lights." Go forth and shine. —Lydia